Wendy: "There is a place that is having an event tomorrow night that serves beer, dogs and burgers. Do…"

Me: "Yes!"

Wendy: "you want to go?"

Me: 🙂
But in all honesty, we wanted to come and support Pie Dog's partnership with Keep A Breast Foundation in hosting a Beer For Boobies Fundraising Event. As you know, October is Breast Cancer Awareness Month. We know many friends who have and have had fought a very hard battle against this disease.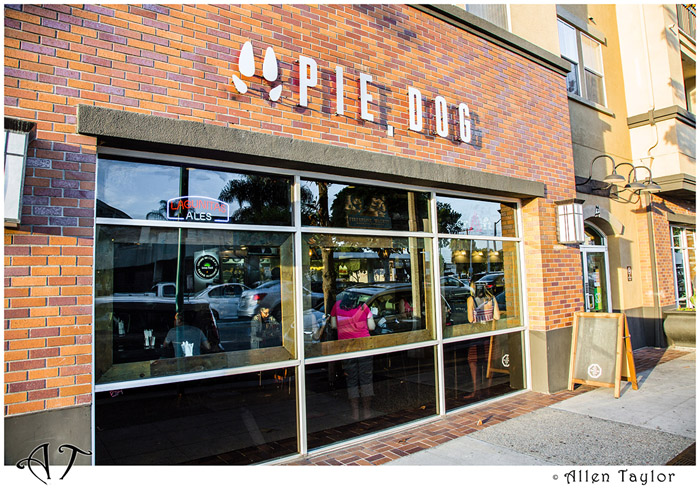 Established in March 2015, Pie Dog™ is a gourmet burger, homemade sausage and craft beer destination eatery based in Fullerton, CA. It offers 24 worldwide craft beers on tap at all times including light and dark options, as well as Belgium, Cider and Nitro.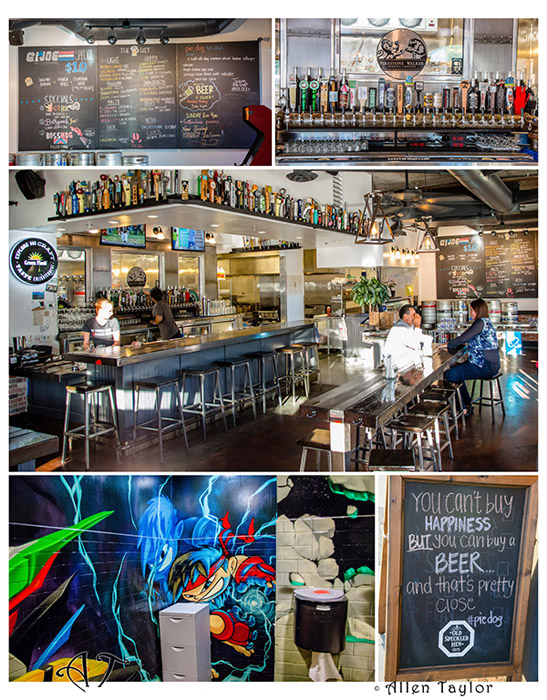 We started the evening selecting a craft beer from their rotating selection. I suggest checking out "Death by Coconut" a wonderful stout seen below on the left.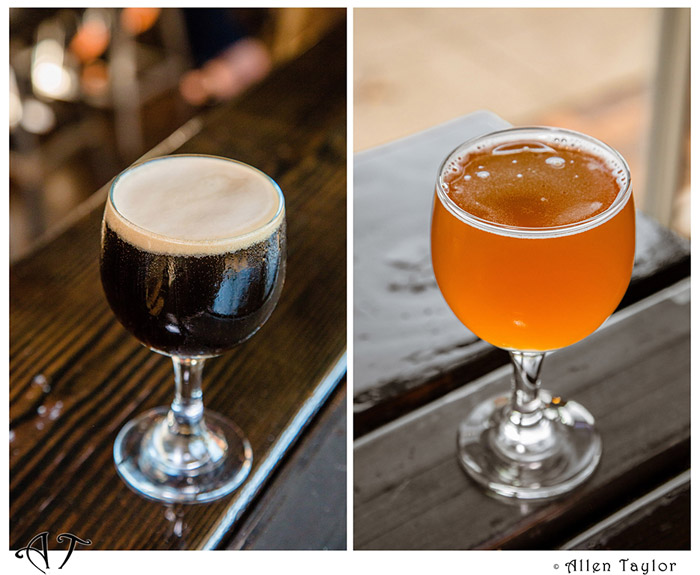 So many delicious choices for food, but we decided to try The Fun Guy Burger. It has Swiss cheese, their house made G $auce (Garlic, Cream, more garlic), Sautéed mushrooms and a bit of LTO. This is a solid juicy delicious burger.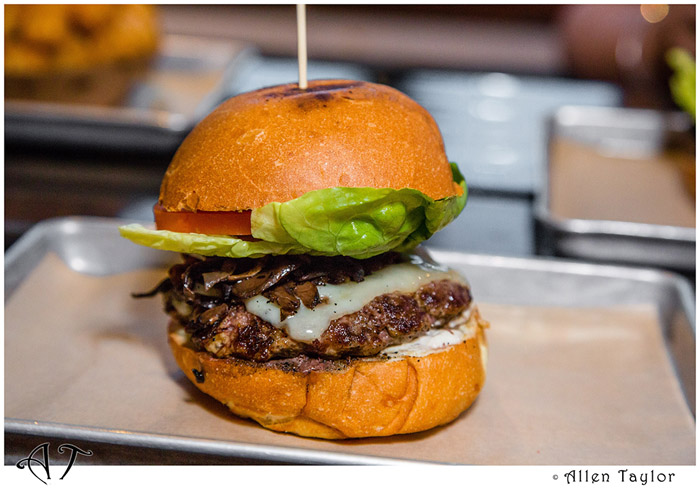 Of course we had to try the namesake, Pie Dog as well. This is not your standard sausage. It is actually a house sausage patty served in a potato hamburger bun with sautéed peppers and onions.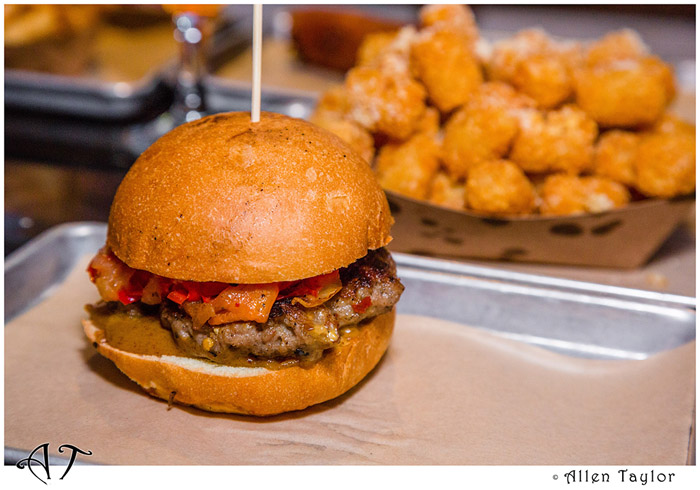 Now as soon as I heard they served Tater (Yes, now please!) Tots I had to have some. You can get them like you see in the image below tossed with garlic and Parmesan. I was in tater heaven.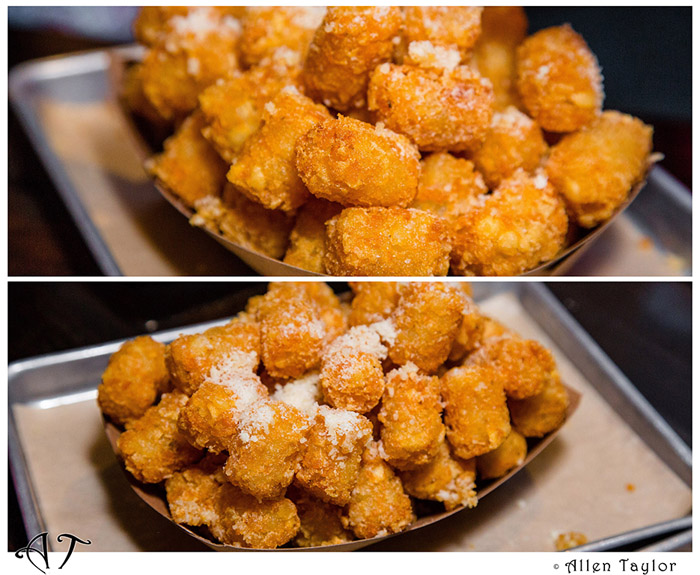 There are many food and beer specials listed on their huge chalk board on one side wall as you enter. One great combo meal is the GI Joe Special with includes a sirloin burger, fries (or substitute another side) and soda (or beer for a little more). You can see it below.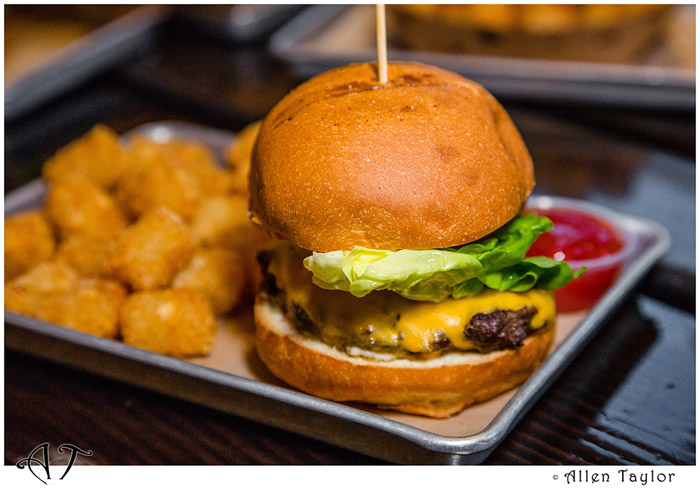 They also have 7 different sauces to choose from.  You can make any sausage a corn dog, even the veggie sausage. Plus other sides like Onion rings and fries.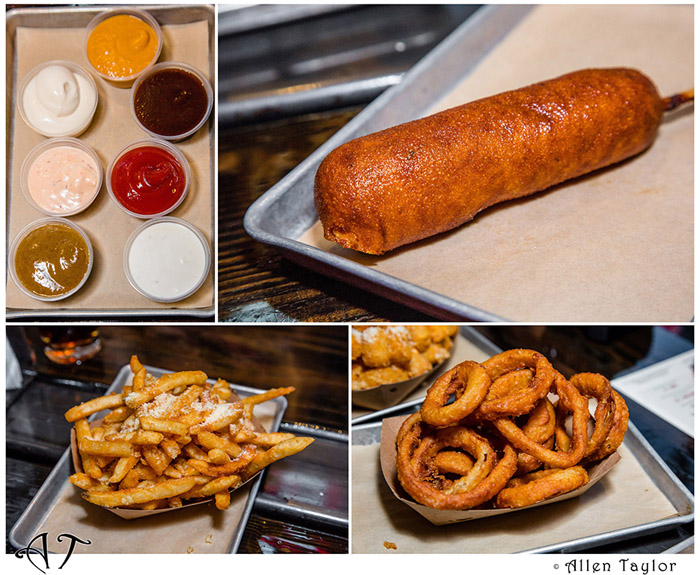 Others tried the Hot Box Burger which has Mac & Cheese and Hot Cheetos in the burger. Are you wondering how this 'combo' was created? One day the chef asked some young adults "What do you eat when you are high and hot boxing?" They replied "Mac & Cheese and Hot Cheetos." It used to be a tradition every year on 4/20 but now you can get it everyday.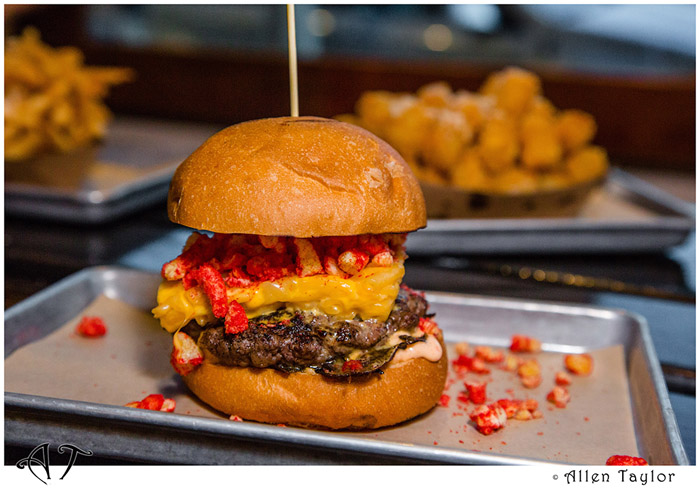 I heard the Blazing Saddles (shown below) with feta cheese, G $auce, Three Amigos, and LTO would send your mouth on a bull ride. Are you up for the challenge?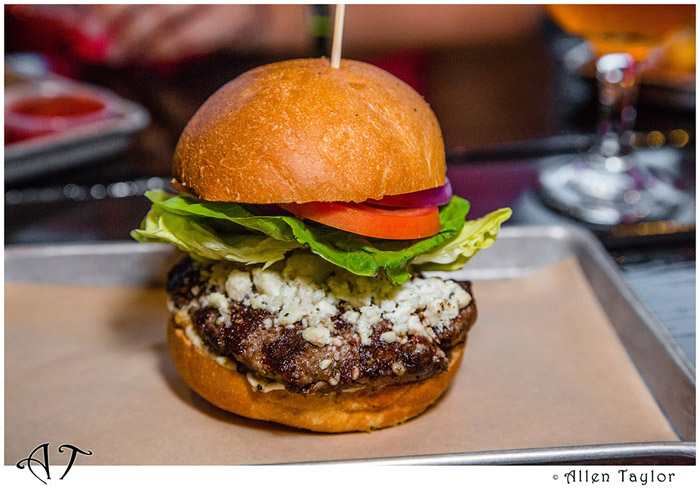 In honor of October, also known as Breast Cancer Awareness month, Pie Dog gave its monthly beer pong tournament a new look with a Beer for Boobies event on Wednesday, October 14th and donated 10% of beer and food sales to Keep a Breast Foundation from the tournament. Additionally, Pie Dog is selling branded Beer for Boobies bracelets for $1 each with 100% of the proceeds being donated to The Keep A Breast Foundation. So Pick up a bracelets with your order when you are here.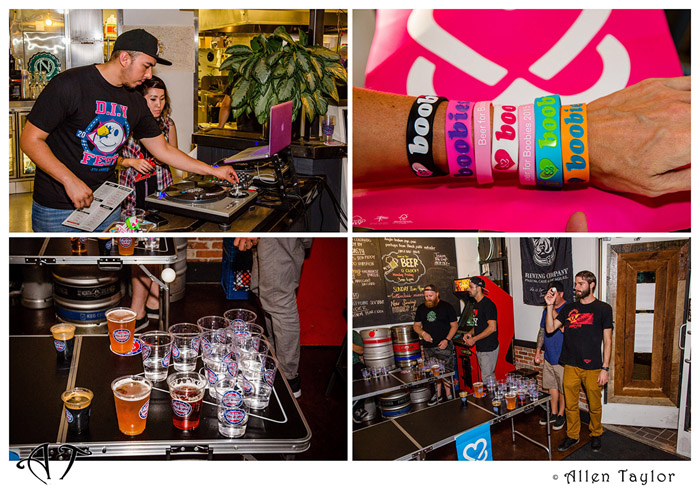 If you are looking for a great relaxing place with excellent beer and original food choices, you can't go wrong in Fullerton by stopping at Pie Dog. Like the sign said out front, "You can't buy happiness, but you can buy a beer… and that's pretty close".
Pie Dog
229 East Commonwealth Avenue, Suite A
Fullerton, CA 92832
(714) 681-1298