I call STACKED a SMART full-service restaurant. With an innovative ordering system with an iPad right at your table, you can customize your order when and how you want it and pay all in the comfort of your seat!
There are currently 4 locations in Cerritos, San Diego, Thousand Oaks and Torrance. I was really excited to attend a wonderful media tasting at Stacked Restaurant in Cerritos a little over a week ago and sink my teeth into some great food.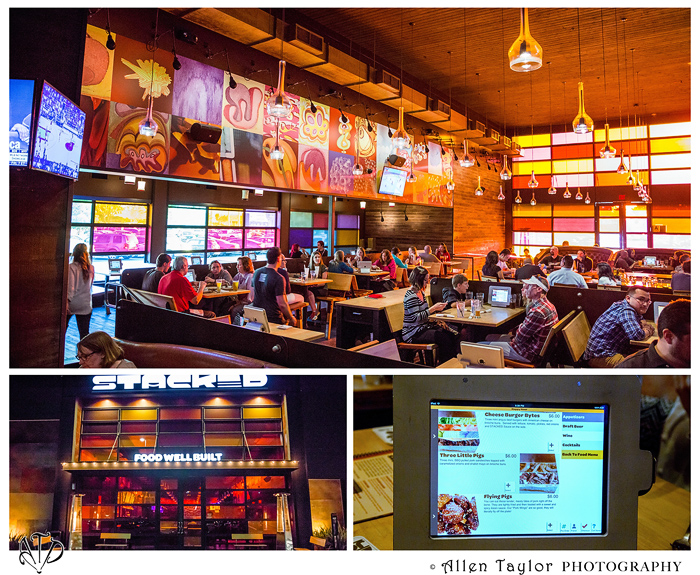 After being seated, one of the first things I was immediately drawn to the cool iPad display on every table. You simply touch and swipe on the screen, choosing and ordering when and exactly what you want. It was super easy and worked like a charm. It even allows you to pay and split the check among the guests. No more hassle with the server or restaurant on separate checks!
This easy customization is at the heart of the STACKED concept. They offer America's favorite foods (Burgers, Pizza, Salads and Mac 'n' Cheese among others). You choose among dozens of ingredients to create the perfect meal for your taste or just select one of their recommended signature items.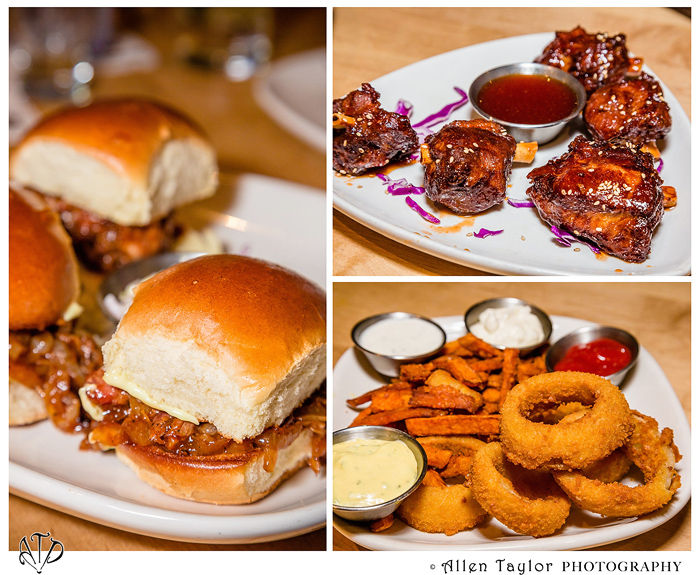 We started out with appetizers: First my favorite Three Little Pigs which are Three (of course)  Mini-Brioche Bun sandwiches with tender BBQ Pulled Pork, Caramelized Onions and Roasted Shallot Mayo. Oh so good. Then we shared the Flying Pigs consisting of tender, meaty bites of pork that came right off the bone. They are lightly fried and then basted with a sweet and spicy Asian sauce. The third item was a customized plate of Onion rings and Sweet Potato fries. Make sure to get all the different sauces you want. We tried the Ranch, Ketchup, Garlic Aioli, and the DIJON HORSERADISH DILL SAUCEAll so good!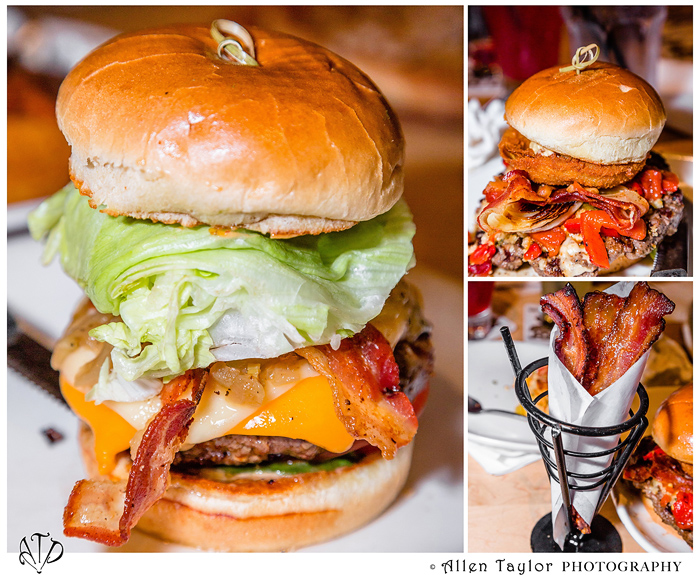 For my mine course I went the BBQ Bacon Cheeseburger seen on the left above. This is a grilled Angus beef patty topped with cheddar cheese ( I also added Pepper Jack), Applewood Smoked Bacon, Tomato, Onion Strings and Barbecue Sauce on a Brioche Bun. Another Taster ordered the Mac 'N' Cheese Burger also with a Angus Beef Patty topped with Toasted Parmesan Breadcrumbs, Mac 'n' Cheese, Applewood Smoked Bacon, Roma Tomatoes and Red Onions on a Brioche Bun. Also featured in the image above is the far far to delicious for mankind, Candied Bacon.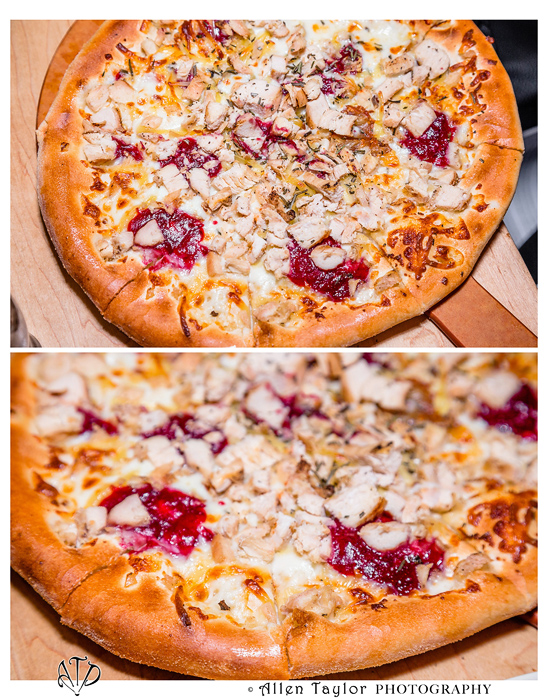 Also on the table where many other mouthwatering choices. From Pizza (above is the CRAN-BRIE CHICKEN
A unique, amazingly flavorful combination of Grilled Chicken Breast, Cranberry Sauce -it works- and Fresh Rosemary meet Mozzarella Cheese, Smoked Gouda Cheese and Brie.)to  a wide assortment of Sandwiches and Salads.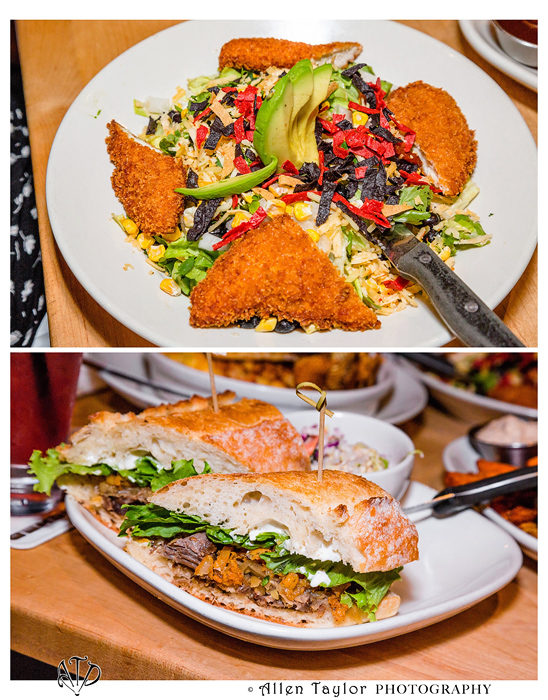 I mentioned the Mac & Cheese burger early, but Stacked doesn't stop there in their gooey pasta offerings.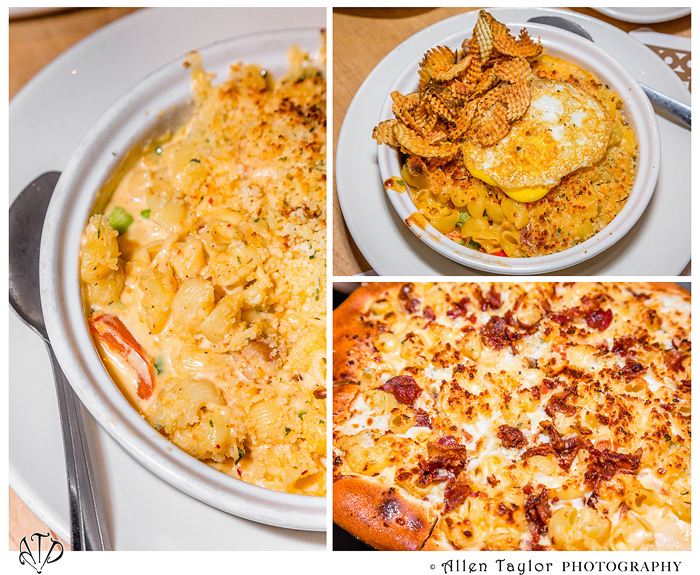 A short list includes Chipotle Stacked Mac, Egg on Your Face (This is insane, Pork Andouille and Pepper Jack Cheese are baked with French Fries, Roasted Red and Green Peppers and Green Onions and topped with an over-medium Fried Egg and Homemade Potato Chips), and a Cajun Shrimp option and more. You can even get a Mac 'N' Cheese Pizza!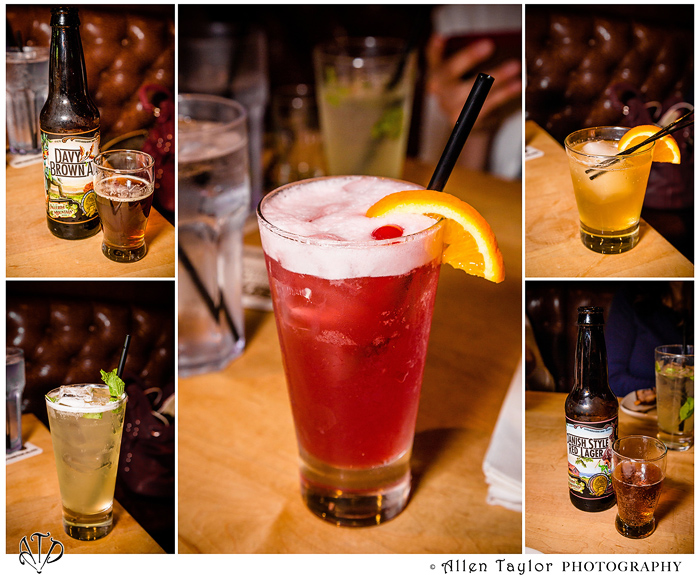 Don't forget there are plenty of wonderful and refreshing cocktails to choose from as well as Beer on draft and bottled. I really enjoyed their take on the Moscow Mule shown above right.
Of course despite being stuffed with all the previous options we had to sample the desserts.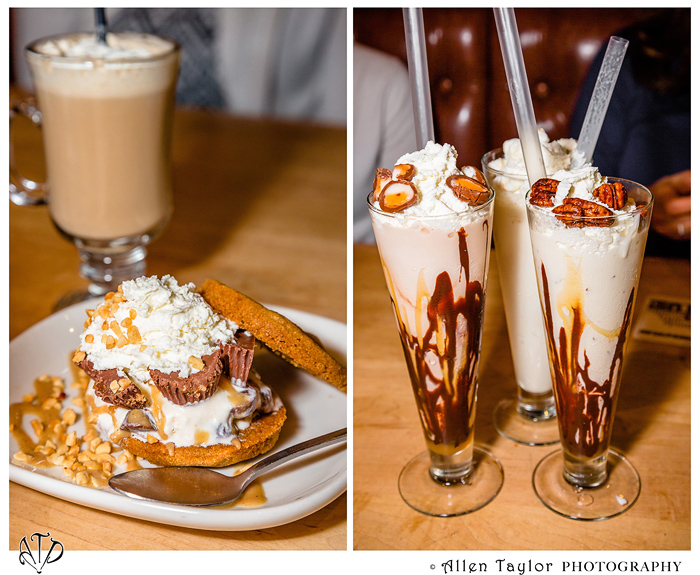 Full disclosure, I made a pig of myself and was able to sample most (okay all) of the desserts shown above. The shakes where thick and creamy with the featured Toasted Marshmallow, Cadbury Egg (seasonal), and the Turtle with candied pecans. We all voted and decided to try the Peanut Butter Heaven and Black & White Ice Cream Stacks. Don't ask me which one I liked best. There is no way I could pick they where both so good. Of course you don't have to go with a Signature dish. The shakes along with the ice cream stacks are all customizable. Stack them and top them any way you want. You can even have a different cookie at each end of  the "sandwich".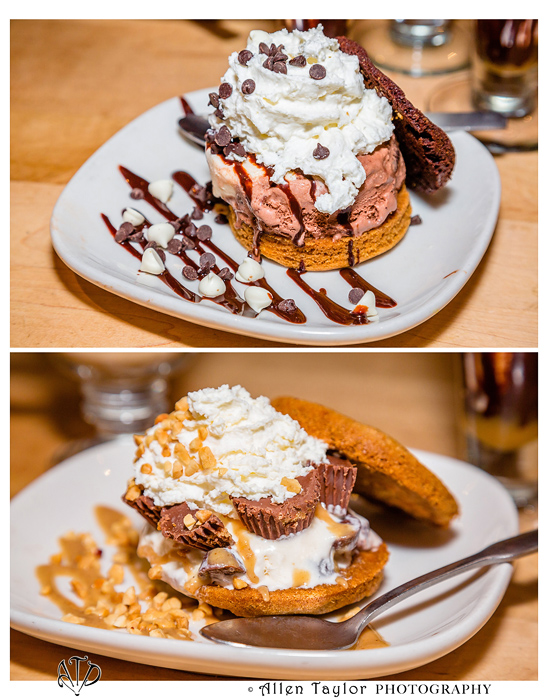 To say the least I left very content and happy. Imagine creating a burger, pizza, salad or Mac 'n' Cheese with all of your favorite ingredients, and just your favorite ingredients! And imagine those ingredients are fresh and flavorful,  grilled to order, the vegetables crisp and fresh, the cheeses rich and creamy, the sauces and dressings freshly made from scratch.
Think how amazing that would taste and you have Stacked.
STACKED
Los Cerritos Center
18425 Gridley Road
Cerritos, CA 90703
562-376-4300