(Guest post by Allen Taylor)
After trying Dog Haus food the last two years at The L.A. Times | The Taste, Wendy and I were excited to learn that they had finally opened a store in Orange County. Located right in Santa Ana at the Westfield Main Place Mall. I couldn't wait to try many of their creative craft hot dogs.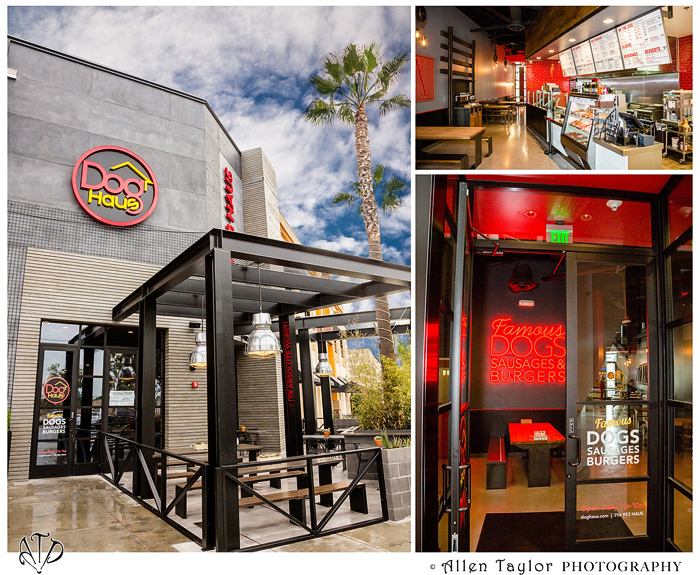 The local Manager, Omar, greeted Wendy and me and was very friendly as he went over some of the favorite 100% all-beef skinless Haus Dogs, Haus Sausages and the 100% natural Black Angus beef burgers that are served on grilled King's Hawaiian Rolls. We decided to start with one of the more popular Sausage the Old Town Dog. It is made of a smoked bacon wrapped dog, caramelized onions, roasted jalapeños, chipotle mayo, and cotija cheese.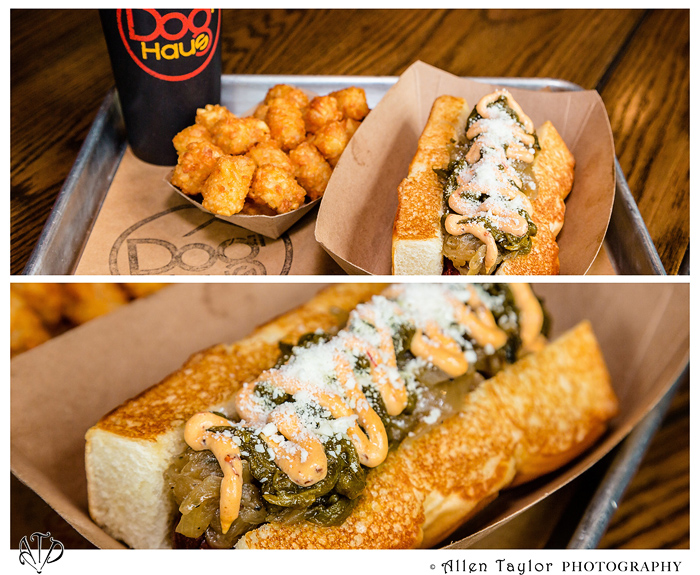 We also made it a combo and chose Tater Tots and a drink. I loved the spicy full flavor from all of the ingredients and the fresh bun.
For our second choice we went with the Another Night in Bangkok with a side of beer battered onion rings. This dog has a spicy thai red currywurst, peanut sauce, asian slaw, and crushed peanuts.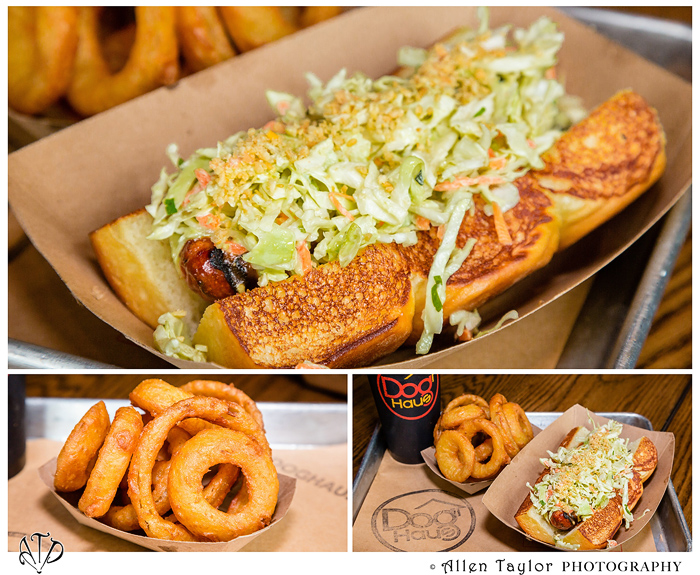 It was a Thai delight. Not as spicy as the Old Town, but lots of pea-nutty flavor. Before I go on I should let you know that in no way did we finish any of these wonderful dogs and burger. Although we would have liked to we wanted to save room so we could taste and share more. Just one of these items will fill anyone up especially with a side.
Next we wanted to sample something different and The Little Mule was perfect for that. So get this, it has a fried egg, white american cheese, haus-made tomatillo sauce, chipotle aioli, and avocado. All within a toasted King's Hawaiian bun and of course the 100% Black Angus beef.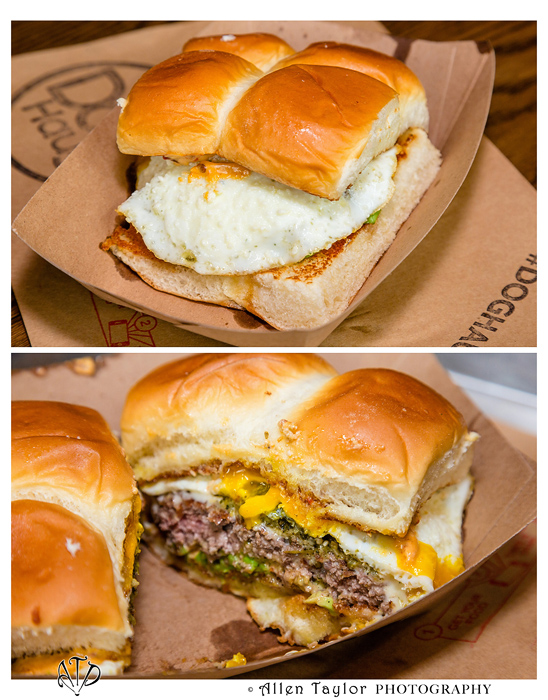 Wow! So delicious and it seems to melt in your mouth. You can really tell they use quality fresh ingredients in all of their items.
Okay! So when I saw fritos in the description I had to try this Haus Dog, the Little Leaguer comes with haus chili (yes!), fritos, shredded cheddar, and diced onions.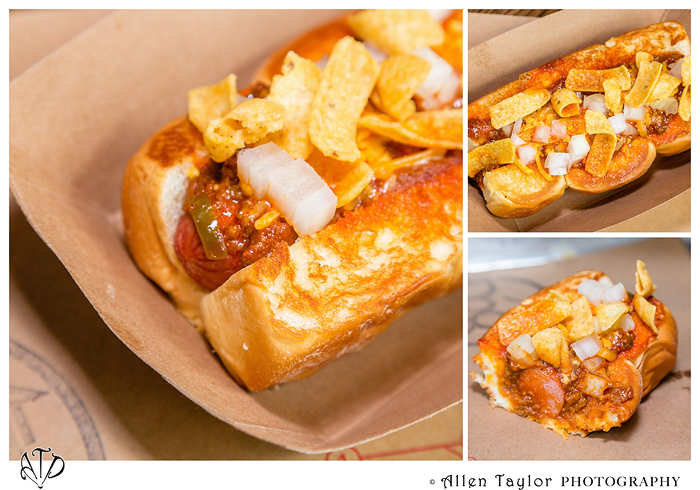 A great Chili dog and I loved the the crunchy one two punch of the onions and fritos.
Wendy was curious about and ordered new Haus Sausage, the Kung Pao Cajun. It has some cajun andouille, kung pao sauce, some bell peppers, green onions, water chestnuts, and peanuts.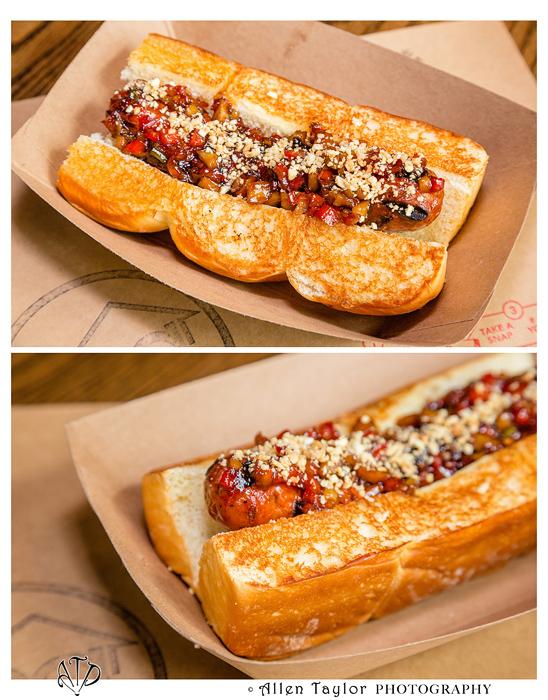 A bit on the sweet side, but not over powering. It's a little Chinese in a big haus sausage. With all of their items you can tell they use gourmet sausages made from the highest quality ingredients.
Of course I couldn't leave without trying a childhood favorite, a corn dog. The Dog Haus take on it is called the Corn Dog It. You can use any sausage or dog dipped in their haus-made root beer batter and then it is deep fried to perfection. We used the hot Italian sausage.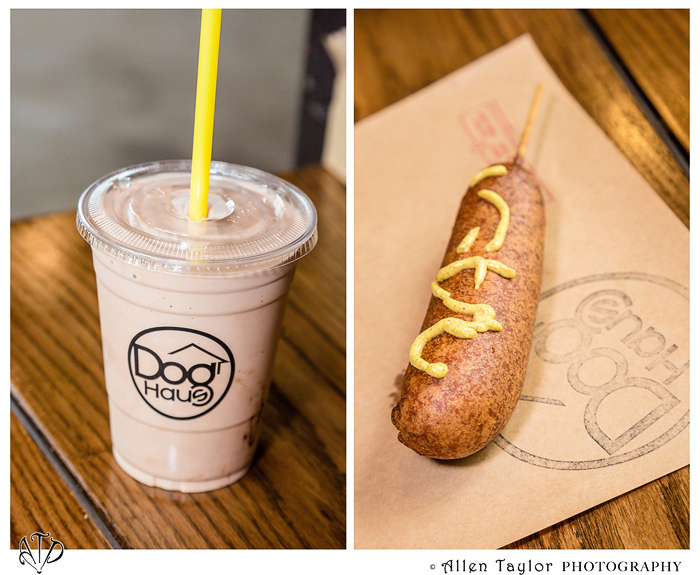 Excellent with mustard or your favorite dipping sauce. I did manage to stuff myself and finish it-so worth it. Did I mention they also have Shakes and Malts? The Chocolate Shake was delicious! Because it's not overly sweet, you don't get sick of it after a few sips. A liquor license coming soon as well!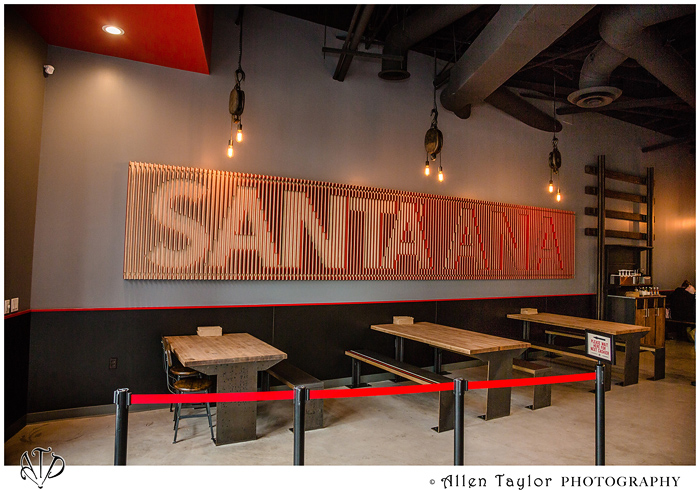 The first Dog Haus opened in Pasadena in 2010 with a craft casual hot dog concept founded by partners Hagop Giragossian, Quasim Riaz and André Vener with a passion for creativity, quality and commitment to community. Now Santa Ana welcomes the latest store, don't wait for next one, you are missing out.
Dog Haus – Santa Ana
2800 North Main Street Ste 197
Santa Ana, CA 92705
(714)953-4287